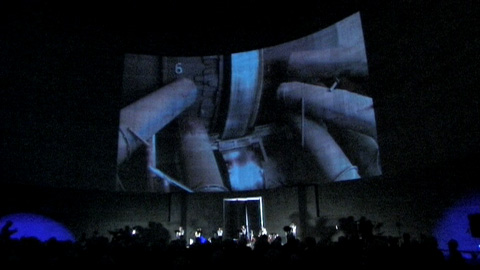 Cements Rezola (Italcementi Group) inaugurated on April 5th, their new facilities for the environmental improvement in their factory of Añorga (San Sebastian-Spain), in which they have invested 8 million euros. Polinomio Estudios designed and carried out the inauguration event, that took place inside a silo of 40 meters diameter by 43 m height. Two audiovisuals shot in High Definition, projected on the inner walls of the silo, with a 16000 lumens projector, showing a concave screen of 35 m length by 19 m height, and whose video were synchronized to the original music playing live by 6 musicians, and composed for the event by professor Francisco Ibañez Iribarria. Two trumpets, two trombons, horn and percussion played with an echo up to 4 seconds that produced the silo dimensions, while images of mineral textures surrounded the audience. The earth and the fire of the 50 m length furnace, produces cement that build Forms that protect and live with us.
Finally, a simbolic filling of the silo (see video HERE ), with special effects and the singular illumination designed by Javier Ulla, who had more than 50000 W of lighting, finished off a magical morning. 200 people enjoyed an unique occasion –the silo will be next filled up with 45000 Tm of clinker – and a welcoming space, by the peculiar stage designed and made by Javier Larreina.
Thanks to all the companies that took part in the act, and to all personnel of Cementos Rezola, for their great disposition and their help to make this tribute to all those that made these facilities.
PHOTO1 : main vista of the space dedicated to the public, full light, reinforced by 20 mirrors.
PHOTO2 : detail of the dome of the silo in the beginning of the symbolic filling, from 43 meters height. (frame of the previous VIDEO )