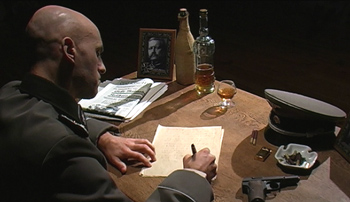 On November 25th, 2006, we started to shoot LA SOMBRA, a short film directed by Gorka Aguado, with a script by Valeria Marcon and Iosu Villena, and produced by Polinomio Estudios. The scenario was the Vitoria School of Arts, a centenary building easy to set in the 40s of last century.
We had the help of Video Art students, like extras and assistants in different shooting areas.
LA SOMBRA can be watched HERE . We participated in Notodofilmfest05 , compressing the story to 3 minutes and 5 Mbytes. Thanks to all the collaborators, and to RmsOnce by his special music.